Effectiveness of workspaces
Blog post by Xu Dong
1. What aspects of your work environment are most important to you?
1) Stable network environment.
2) Quiet and undisturbed independent space.
3) Good music playing equipment.
4) Simulate the lighting environment of daylight.
5) A comprehensive and easy-to tidy workbench.
6) Comfortable and ergonomic chair.
2. What type of workspace and storage space can you use (at home or away)?
My work area is my home, and my work area is my living room.
Working area: 3M wide desk, personally modified easel, desktop computer, and notebook computer, all-in-one printer and scanner, a bookshelf full of books
Rest area: small tea table, sofa, small dining table
Storage space: large bookshelf, pigment storage rack, marker display rack, and various pen containers. The finished works are placed on the top of the bookshelf.
3.Lists up to three areas in the workspace that you want to change.
1) Desk
2) Easel
3) Bookshelf
4.List up to three consumables to purchase.
1) Paint and canvas
2) Tip of iPad pencil
3) Art tape
4) Cat food and litter (joking)
5.What is the estimated cost of these new supplies?
The cost of purchasing consumables is volatile, mainly because I like to try new media and use mixed media for painting. I will try new products from some big pigment manufacturers. The price of these new products is not very fixed. The cost of pigment and canvas consumables ranges from $8 to $300 per month. The cost of canvas and art tape is meager, which is about $30 per month. Four tips of iPad pencil can be bought for $3, and the average cost can be ignored.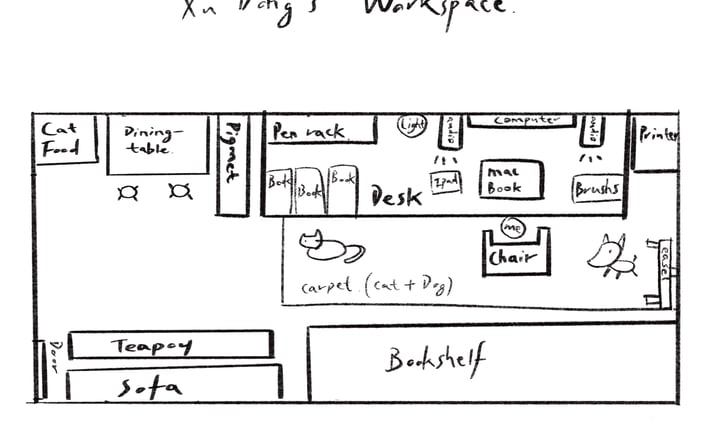 +86 17875919553
XDONG3@art.edu
B2-2702, Xingheshidai, Ainan Rd. Shen Zhen, Guang Dong, China, 518000